Based on site user feedback, we've made some exciting updates to bring sites more

clarity

, more

visibility

, and more

control

.
Easier trial application management
Quickly see where action is needed & where you stand
The new "Applications in progress" page will help you:
Keep better

track

of

applications

underway
Quickly

see the status

of each trial application and how many days remain until the trial closes
See clearly outlined

next steps

and

deadlines

for your site
Get a sense of how popular each trial is with other Inato sites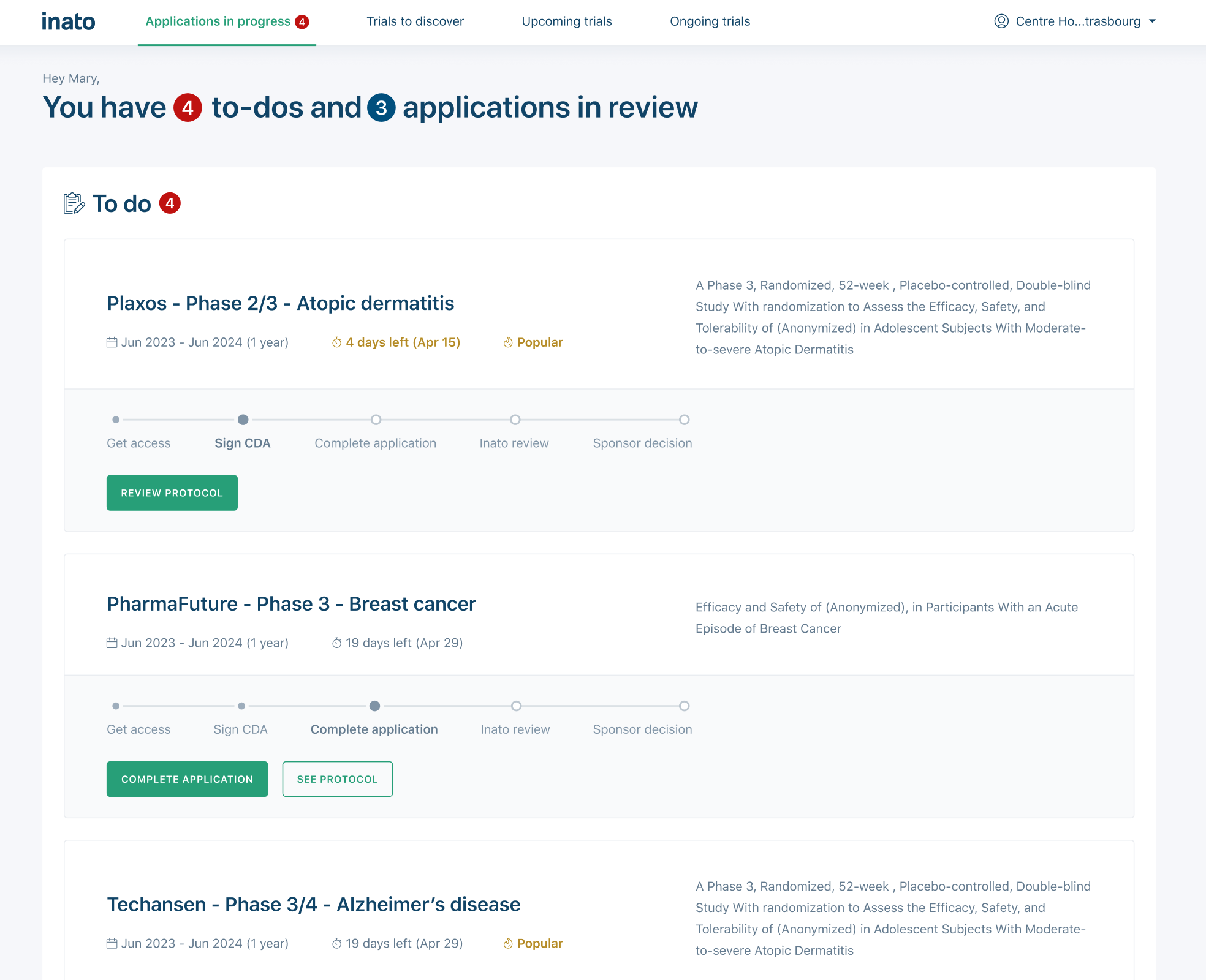 Newly enhanced trial listings dashboard
More visibility to trial details
Quickly see more details about each trial in the new "Trials to discover" page and trial overview pages. Things like:
How popular

the trial is with other Inato sites

How much

reused data

you already have available to complete an enrollment plan
Trial overview insights, including details such as:

How many sites the sponsor is seeking
How many sites have shown interest in the trial and how many have applications in progress
How many "seats" remain for sites selected through Inato
Sponsor diversity goals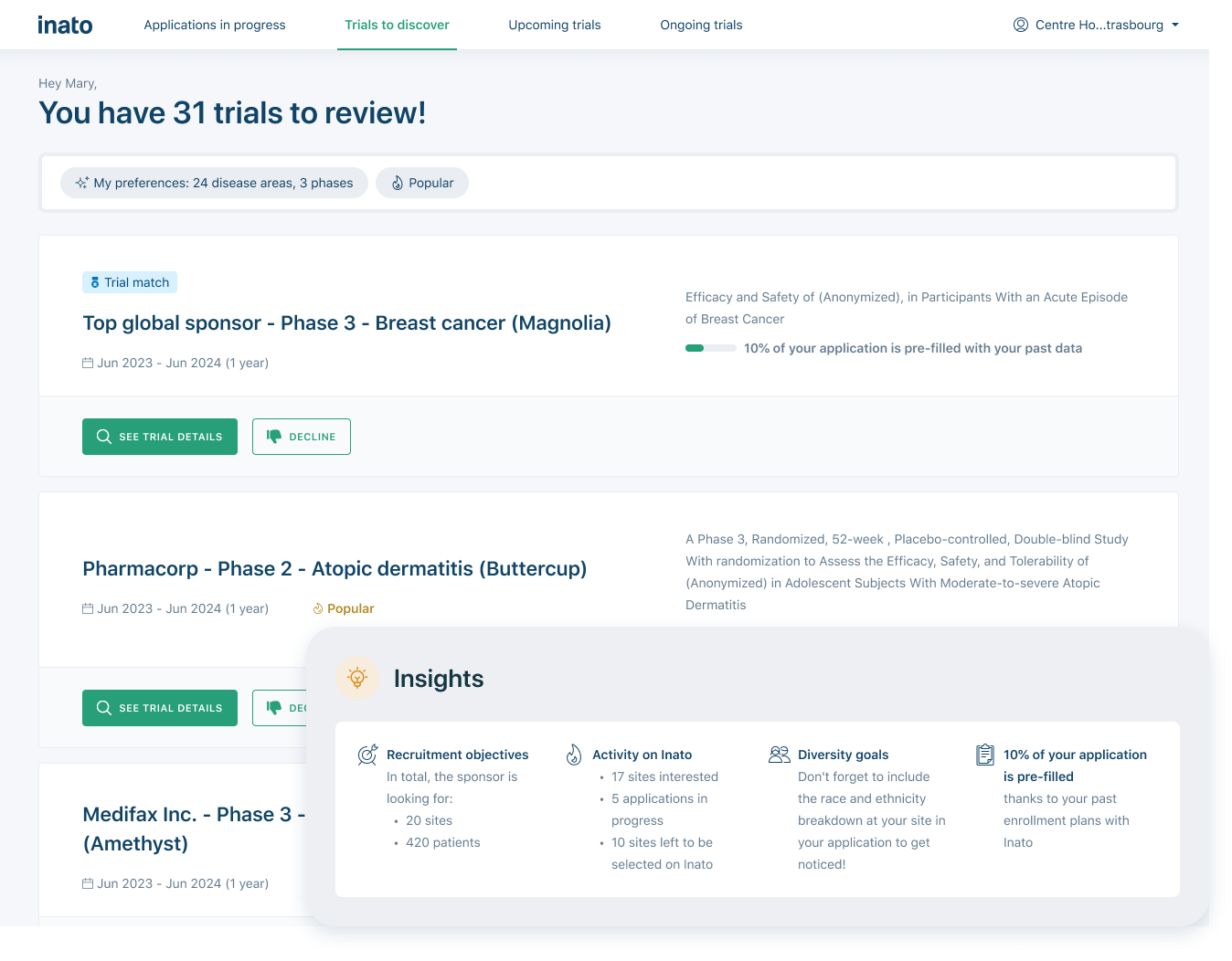 New preview of upcoming trials
Preview and show interest in upcoming trials to help bring your top picks to Inato
Our new "Upcoming trials" page makes it simple to see potential future trials and show interest in the ones you want to see on Inato.
You have the power! The more sites who mark "interested" in each trial, the more likely we can bring those to you through Inato.
Once you've shown interest, opt to

get notified when the protocol is available

.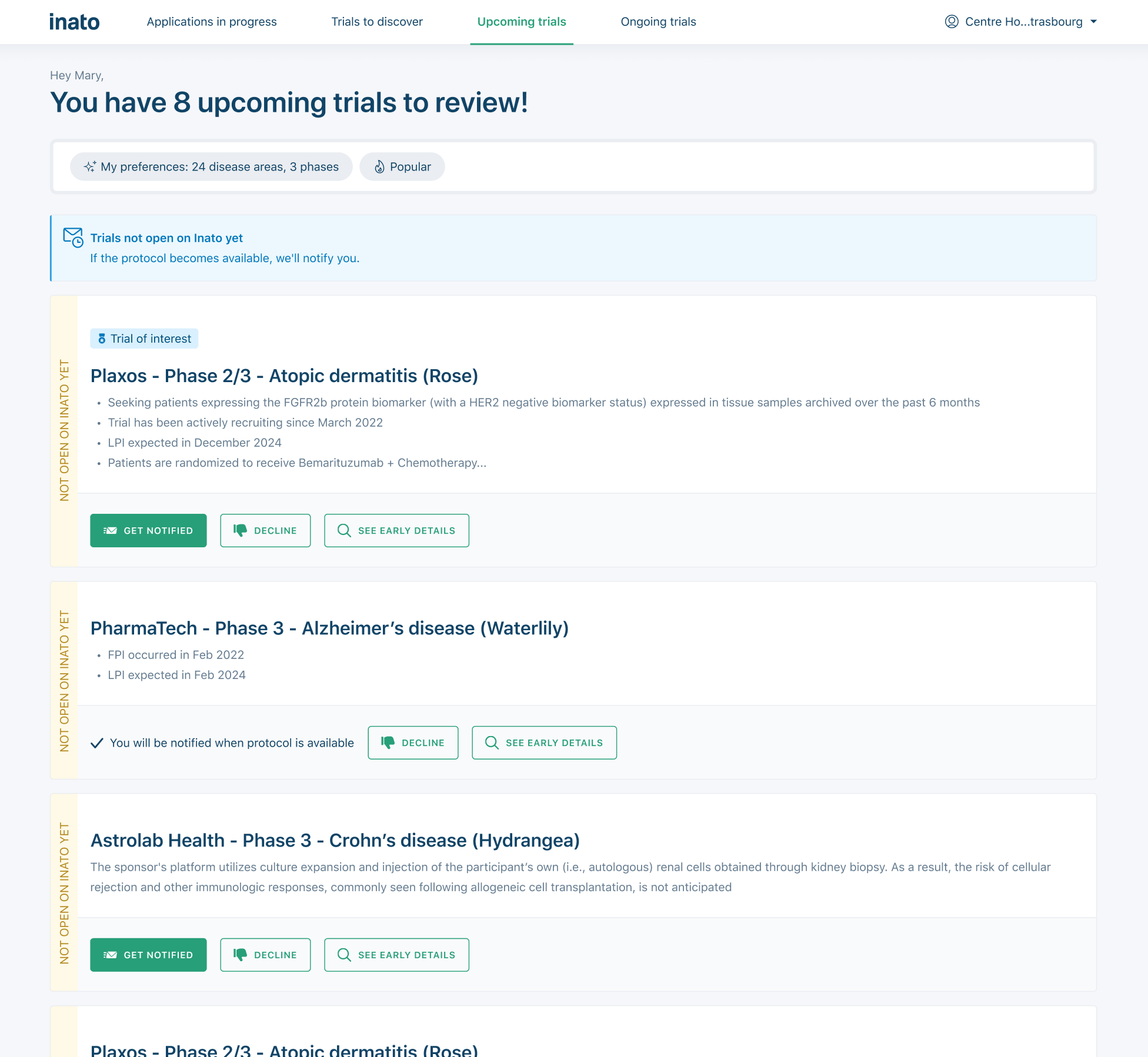 New sponsor showcase for recommended sites
Build trust and show sponsors what will make your site successful
Our all-new showcase view helps sites really shine. Leverage your Site Partnership Manager (SPM) advocate and your trial Enrollment Plan to quickly build trust with sponsors by spotlighting unique attributes, such as:
Your

unique features

& capabilities
Context around your experience and past performance
Realistic enrollment estimates

Community engagement

programs
Your staff makeup and experience

Diverse patient

populations and diverse staff
And more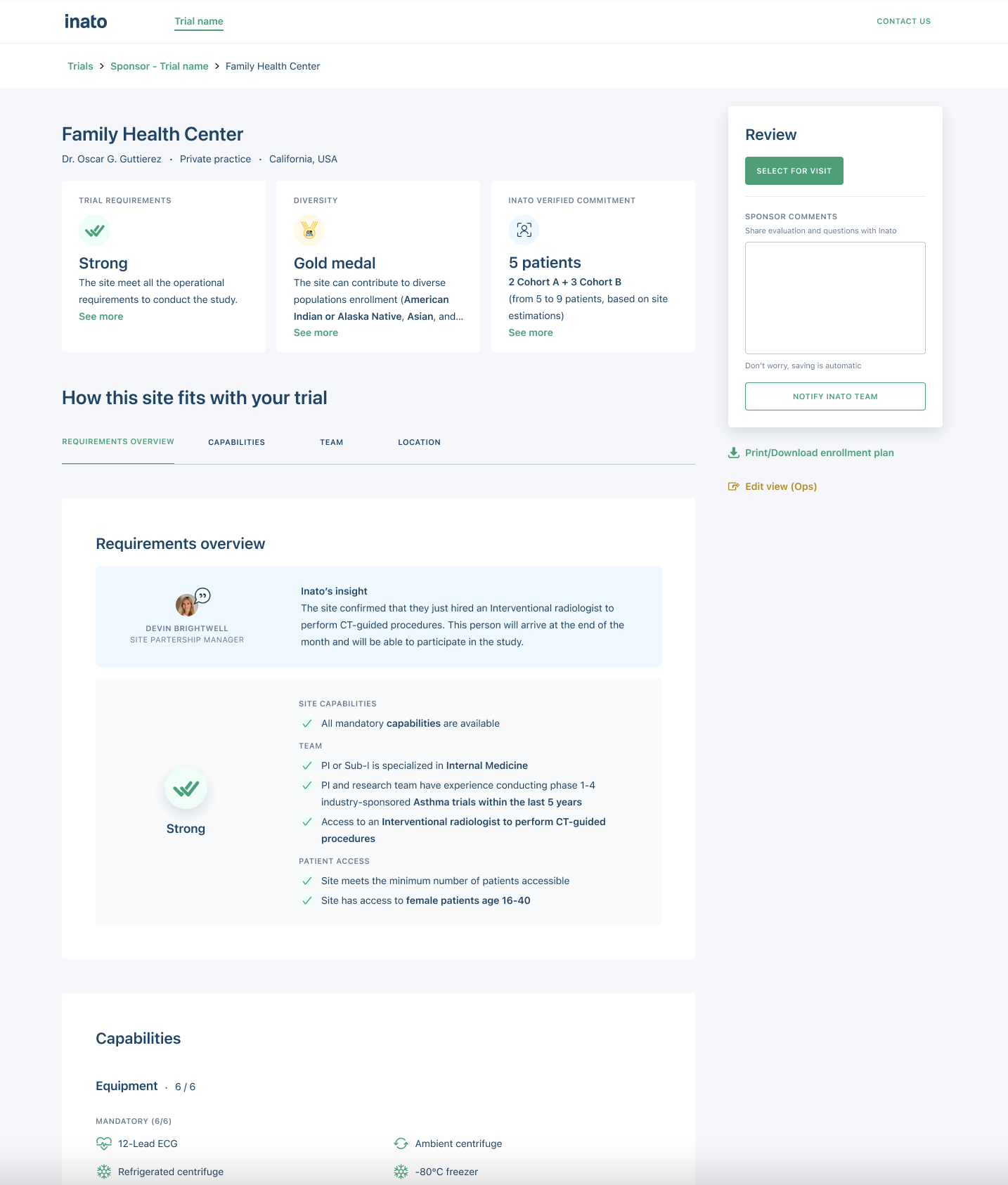 New weekly digest email helps you track your trials!
Don't miss a thing with weekly summaries
Stay on top of your trial applications. Each week we'll send you a summary of:
Actions needed on "in-progress" trials
New trials available
Comments from your Inato Site Partnership Manager
CDA next steps
And more
*Note: Weekly digests will only be sent to primary contacts for each site at this time.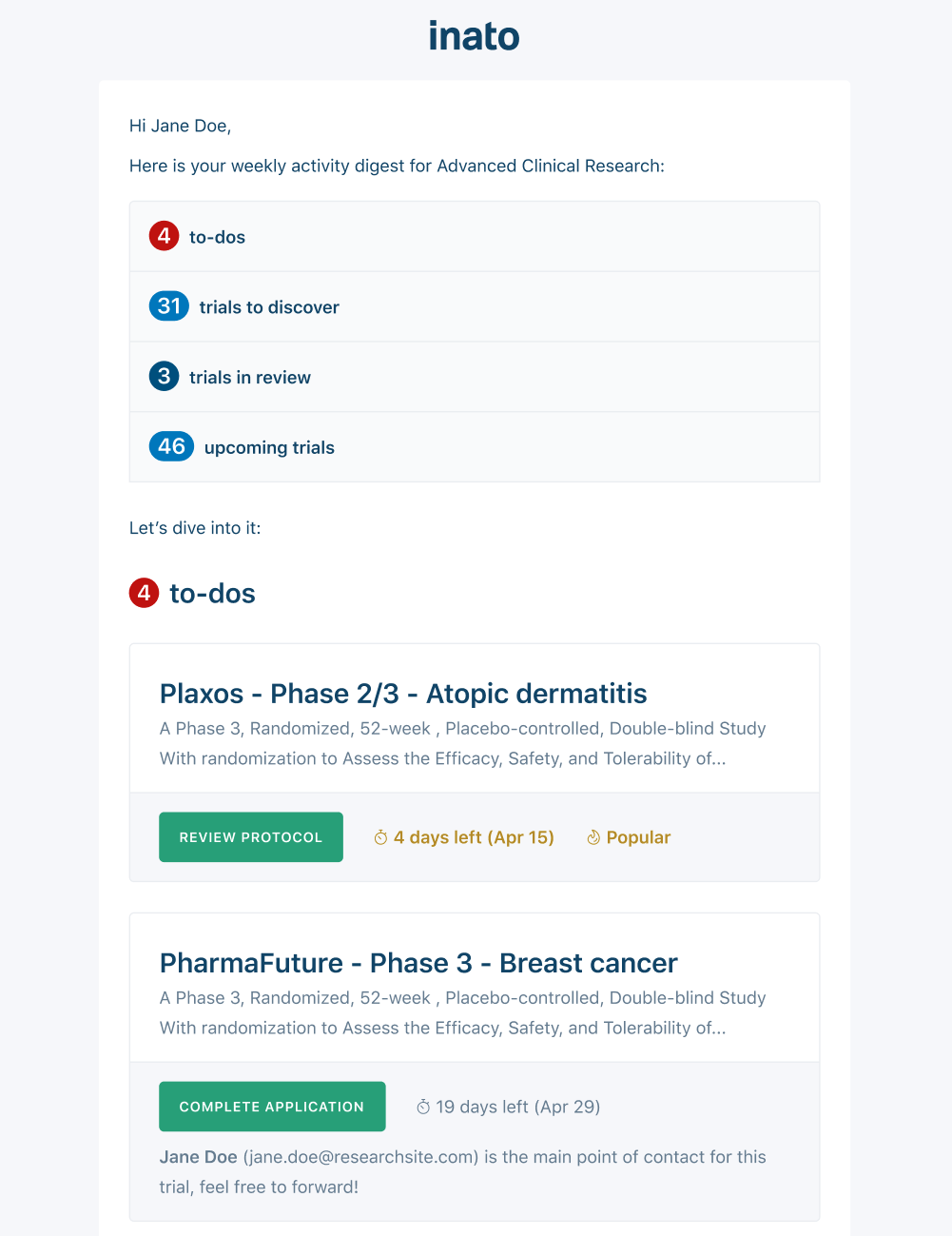 I like that 'Applications in Progress' tells me what I have to do next, it's cool that it has a step by step view of where we are in the process. I also like how, on 'Trials to Discover,' the important information is presented in a way that's easy to consume and organized. Yokaira Camilo, Study Coordinator, Neurology of Central Florida Research Center
The new 'Applications in Progress' view is great. The page tells me where all my applications are at in the process as well as the timeline for each, it's really helpful. Maria Lavarreda-Pearce, Resesarch Business Analyst Sr., Cottage Health Research Institute
This new 'Trials to Discover' view is very clear. I have all the information and can easily say if I'm interested or not then sign the CDA. I also really like how under the 'Applications in Progress' view I can clearly see all the [trials] I've expressed interest in. Study Coordinator
Have you given these updates a try? We'd love to get your thoughts. Feedback from sites is how we grow together.